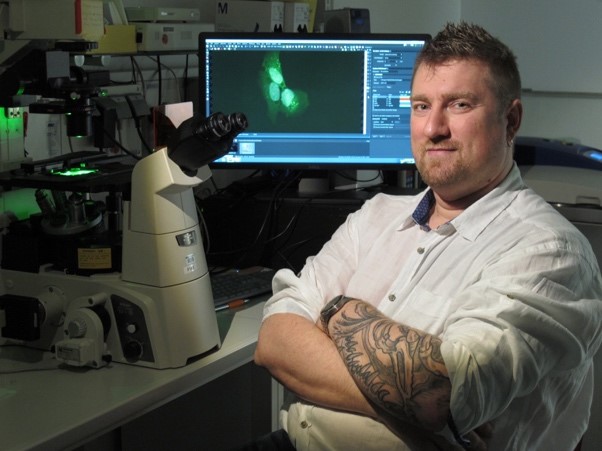 Host/Pathogen Interactions at Intestinal Epithelial Surfaces
Projects
In the lab, we are inter­est­ed in the intrin­sic mech­a­nisms by which human intesti­nal epithe­lial cells, on the one hand tol­er­ate the pres­ence of the com­men­sal flo­ra and, on the oth­er hand rec­og­nize and respond to pathogen chal­lenges. We use a mul­ti­dis­ci­pli­nary approach to inves­ti­gate fun­da­men­tal aspects of cel­lu­lar biol­o­gy, immunol­o­gy and virol­o­gy. We are par­tic­u­lar­ly inter­est­ed by how the polar­ized nature of intesti­nal epithe­lial cells par­tic­i­pates in the main­te­nance of bar­ri­er func­tions, in the con­trol of viral infec­tion and in the estab­lish­ment of immune-home­osta­sis. We exploit epithe­li­um and organoids mod­el sys­tems to reca­pit­u­late the com­plex­i­ty of the intesti­nal tract. We have estab­lished mod­el sys­tems to repro­duce the cel­lu­lar and bio­chem­i­cal gut microen­vi­ron­ment allow­ing us to per­form an inte­gra­tive analy­sis of host/pathogen inter­ac­tions at the sin­gle cell level.
Our main research ques­tions are:
-How enteric viral pathogens infect the epithe­lial cells lin­ing the sur­face of our gas­tro-intesti­nal tract.
-How cel­lu­lar polar­i­ty par­tic­i­pates in the main­te­nance of epithe­li­um immune homeostasis.
-How clathrin-medi­at­ed endo­cy­to­sis and traf­fick­ing par­tic­i­pates in estab­lish­ment of cel­lu­lar polar­i­ty and polar­ized immune response.
Selected Publications
Com­plete pub­li­ca­tion list (PubMed)
Hypox­ic Envi­ron­ment Pro­motes Bar­ri­er For­ma­tion in Human Intesti­nal Epithe­lial Cells through Reg­u­la­tion of MicroR­NA 320a Expres­sion. Muen­chau S, Deutsch R, de Cas­tro IJ, Hielsch­er T, Heber N, Niesler B, Lusic M, Stan­i­fer ML, Boulant S.Mol Cell Biol. 2019 Jun 27;39(14). pii: e00553-18. doi: 10.1128/MCB.00553–18..
Type-Spe­cif­ic Crosstalk Mod­u­lates Inter­fer­on Sig­nal­ing in Intesti­nal Epithe­lial Cells. Per­volara­ki K, Guo C, Albrecht D, Boulant S, Stan­i­fer ML. J Inter­fer­on Cytokine Res. 2019 Jun 13. doi: 10.1089/jir.2019.0040.
Dif­fer­en­tial induc­tion of inter­fer­on stim­u­lat­ed genes between type I and type III inter­fer­ons is inde­pen­dent of inter­fer­on recep­tor abun­dance. Per­volara­ki K, Rast­gou Tale­mi S, Albrecht D, Bor­mann F, Bam­ford C, Men­doza JL, Gar­cia KC, McLauch­lan J, Höfer T, Stan­i­fer ML, Boulant S. PLoS Pathog. 2018 Nov 28;14(11):e1007420. doi: 10.1371/journal.ppat.1007420.
Sur­face Immo­bi­liza­tion of Virus­es and Nanopar­ti­cles Elu­ci­dates Ear­ly Events in Clathrin-Medi­at­ed Endo­cy­to­sis. Frati­ni M, Wie­gand T, Funaya C, Jiang Z, Shah PNM, Spatz JP, Cav­al­can­ti-Adam EA, Boulant S.ACS Infect Dis. 2018 Nov 9;4(11):1585–1600. doi: 10.1021/acsinfecdis.8b00134.
Clathrin-adap­tor ratio and mem­brane ten­sion reg­u­late the flat-to-curved tran­si­tion of the clathrin coat dur­ing endo­cy­to­sis. Buch­er D, Frey F, Sochac­ki KA, Kum­mer S, Bergeest JP, Godinez WJ, Kräus­slich HG, Rohr K, Taras­ka JW, Schwarz US, Boulant S. Nat Com­mun. 2018 Mar 16;9(1):1109. doi: 10.1038/s41467-018–03533‑0.